This article discusses Excimer versus Femtosecond laser and its various uses in laser eye surgery. LASIK commonly uses the excimer laser, which has proven safe and effective. Laser pulses emit ultraviolet light, which breaks down molecular bonds and vaporizes tiny amounts of tissue to reshape the cornea. As little as 0.25 microns of tissue can be removed simultaneously with the excimer laser, providing accurate and predictable results.
In LASIK procedures, excimer lasers such as the VISX S4, WaveLight Allegretto, and Nidek EC-5000 are used. Despite the differences in features and capabilities, all these lasers deliver precise and accurate laser energy.
Astigmatism, myopia, and hyperopia can be treated with Laser-Assisted In Situ Keratomileusis (LASIK). Laser eye surgery improves vision by reshaping the cornea with a laser. Lasers such as excimer lasers and femtosecond lasers are commonly used in LASIK.
LASIK was pioneered by the excimer laser and is still widely used today. Using ultraviolet light, it vaporizes and shapes the cornea by breaking molecular bonds in the cornea. As opposed to this, the femtosecond laser creates a small incision in the cornea with infrared light pulses, creating a flap that can be elevated to access the underlying tissue and reshaped with the excimer laser.
We will discuss the pros and cons of LASIK using excimer lasers and femtosecond lasers, as well as the machines which use each technology. The lasers used for LASIK, femtoLASIK, and SMILE (Small Incision Lenticule Extraction) will also be discussed.
Pros of Excimer Lasers in LASIK
LASIK has been performed with excimer lasers for over 25 years with a long history of safety and effectiveness. A corneal excimer laser can accurately and predictably remove tiny amounts of corneal tissue. This gives the most accurate results. With excimer lasers, treatment can be tailored to fit each patient's corneal shape and refractive error. Most patients return to normal activities within a few days after having LASIK with an excimer laser.
Cons of Excimer Lasers in LASIK
The excimer laser can only reshape the cornea, so a microkeratome or femtosecond laser must be used to cut a flap for access to the cornea. The nerves that control tear production can be affected by excimer laser LASIK, which can sometimes cause dry eyes. Following LASIK with an excimer laser, some patients may temporarily experience glare at night.
Femtosecond Lasers in LASIK
In recent years, femtosecond lasers have become increasingly popular in LASIK. Unlike the excimer laser, the femtosecond laser creates a small, precise incision in the cornea that allows the surgeon to access the underlying tissue.
LASIK and other refractive surgeries increasingly use femtosecond lasers because of their precision and safety. However, using femtosecond lasers in ophthalmic procedures has both advantages and disadvantages.
Pros:
Small, precise corneal incisions can be made using femtosecond lasers, which emit ultra-short pulses of infrared light. Patient outcomes are improved through this level of precision in corneal flap or lenticule design.
Compared to traditional LASIK, femtosecond lasers reduce the risk of flap complications, buttonholes, or epithelial ingrowth. Infections and corneal abrasions can also be reduced with femtosecond lasers.
With femtosecond lasers, surgeons can create precise incisions tailored to patients' needs, leading to better visual outcomes.
LASIK using femtosecond lasers generally recovers more quickly and with less inflammation than traditional LASIK.
Cons:
In comparison with traditional LASIK, femtosecond laser technology is more expensive.
There are a limited number of surgeons who are trained and experienced enough to safely perform femtosecond laser procedures because a surgeon needs to be highly professional for this surgery.
Due to the laser used to create the corneal flap or lenticule, femtosecond laser procedures take longer than traditional LASIK.
Patients seeking LASIK or other refractive surgeries may have limited options due to the limited availability of femtosecond laser technology.
Since femtosecond lasers are highly accurate and safe for the eyes, they have become increasingly popular for LASIK procedures. Femtosecond lasers can create tiny incisions in the cornea using ultrashort pulses of infrared light. With this technology, LASIK flaps can be created for LASIK surgery and SMILE (Small Incision Lenticule Extraction).
Smile is a newer type of refractive surgery using a femtosecond laser to remove a small piece of tissue (called a lenticule) and reshape the cornea. Due to its small incision and lack of corneal flap, this procedure is less invasive than traditional LASIK. A popular alternative to traditional LASIK, SMILE corrects myopia and astigmatism.
Technology
Alcon LenSx, ZiemerFemto LDV, and VisuMax by Carl Zeiss Meditec are among the femtosecond lasers used in LASIK. The features and capabilities of these lasers differ, but they all use femtosecond laser technology to make precise corneal incisions.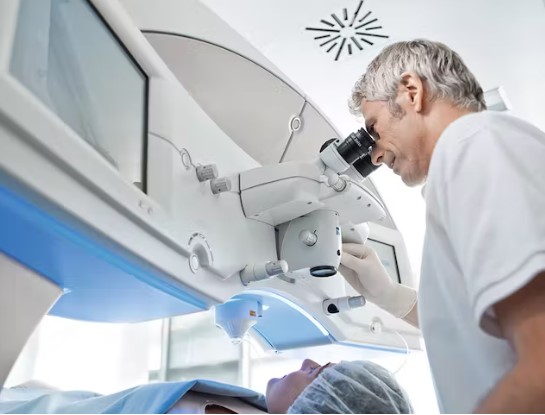 LASIK, cataract surgery, and other ophthalmic procedures can be performed with the Alcon LenSx femtosecond laser. This laser system integrates a fully integrated OCT imaging system during surgery to ensure optimal precision and accuracy by allowing cornea visuals. Since 2008, the LenSx femtosecond laser-assisted cataract surgery system has become popular.
LASIK, cataract surgery, and corneal transplant procedures can all be performed with the ZiemerFemto LDV laser. The modular laser system allows the surgeon to customize it to meet the patient's specific requirements. Since its introduction in 2008, the Femto LDV has become an increasingly popular choice for femtosecond laser-assisted corneal surgery.
Carl Zeiss Meditec can perform SMILE procedures with the VisuMax femtosecond laser. The laser system provides an optimal view of the cornea during surgery due to its unique curved patient interface. In 2011, VisuMax became the preferred choice for SMILE procedures.
Instead of using a microkeratome blade, femtoLASIK creates a corneal flap using a femtosecond laser. With FemtoLASIK, flap-related complications are reduced, and corneal flaps are more customizable, making it a more precise and safer alternative to traditional LASIK.
It is possible to perform LASIK procedures with the Alcon LenSx and ZiemerFemto LDV.
Final Thoughts
LASIK and other ophthalmic procedures can now be performed precisely, safely, and effectively using femtosecond lasers. In LASIK and other ophthalmic surgeries, femtosecond laser systems such as Alcon LenSx, ZiemerFemto LDV, and VisuMax by Carl Zeiss Meditec are popular.
Surgeons can select the system that meets their specific needs based on the features and capabilities of these systems. Patients can correct their vision using traditional LASIK, SMILE, and femtosecond LASIK, which uses femtosecond lasers.